Indoor Air Quality: Understanding ASHRAE 62.2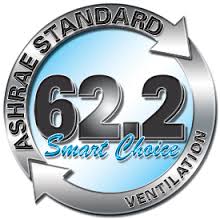 ASHRAE 62.2 is the building industry's most widely accepted outdoor-air ventilation standard. It's a relatively new concept for homes, and in most places, Asheville and North Carolina included, it is not yet required by local building codes. When building or renovating, this is the best standard for optimal health.
Outdoor air is almost always cleaner than indoor air.
Choices of building and furnishing materials are available, for better indoor-air. Good occupant behavior is needed to avoid new pollution sources and reduce common pollutants with source or spot ventilation: bath fans, kitchen vent hoods, attached garages and careful maintenance of any combustion appliances inside the living space. Researchers find that even with reduced interior pollution, Indoor Air Quality IAQ benefits from outdoor-air exchange.

Outdoor-Air Ventilation
Outdoor-air exchange is important for health. Most homes being built today are not including any form of this critical ventilation. Healthy, indoor air quality relies on proven airtightness and meeting certain rates of outdoor-air ventilation, like those called for in ASHRAE 62.2.

The American Society of Heating, Refrigerating and Air-Conditioning Engineers ASHRAE is a diverse group of professionals that come to a consensus on better IAQ practices through outdoor-air ventilation and combustion appliance management. They update the 62.2 standard every three years based on current research. LBNL has an overview and 62.2 ventilation guide for California requirements.
Data is lacking on the relationship of increased health with these methods. The field of knowledge is in its infancy. Most who investigate these issues agree with the direction of international level building codes.

Current international building codes require all new homes to meet ASHRAE 62.2 as a minimum. It is currently not enforced by local codes but its only a matter of time before adoption. These health issues are important as fire and safety codes.
Passive Vs Mechanical Ventilation
Windows make great passive ventilation when the weather is nice. Most of the time, windows are closed and we are using energy to condition the air. It is not convenient, comfortable or practical to use windows for the majority of our outdoor-air ventilation needs.
Air-infiltration is the most common passive ventilation for existing homes. This is not a healthy way to supply outdoor-air. The main problem is lack of control. It typically only ventilates enough in windy or extreme weather when energy costs are high. Humid-air flowing through building cavities with cold surfaces is a recipe for mold, mildew and rot. Infiltration pollution is controlled with tight homes and mechanical ventilation.

The safest, most reliable, and controllable form of ventilation uses an air-tight building envelope and mechanical ventilation assistance, otherwise known as a fan. The trend in mechanical outdoor ventilation, is to use simple heat exchangers, like those found in ERVs and HRVs.
How much ventilation is enough?
This is the most debatable detail but most agree it depends on the situation. Outdoor-air ventilation increases energy use. The challenge is finding a balance of increased energy costs and amounts of outdoor-air that is acceptable and healthy.
Some feel the target ventilation rates are much too high, leading to wasted conditioned-air and energy use. Others say the rates should be higher. Right now the industry as a whole, agrees on the target in 62.2, but this is likely to be adjusted in the future. 62.2 are minimums, and special conditions may need higher rates to deal with above average indoor pollution.
The uncertainty surrounding these issues is one of the reasons we prefer a mechanical ventilation system that is easily controlled. Its good to design to the target rate, but have a way of turning the ventilation up or down. We feels its best to provide a system that can be controlled, to provide a range from too much to too little. This allows occupants to control the rate that best suits their situation.
Let the occupants have control and they will screw it up
There is always risk that homeowner's will misuse or not maintain their outdoor-air ventilation system, especially as controls get complex. Keeping the system simple and accessible while providing thorough homeowner education, can reduce most problems. We favor wall controls (think thermostat) that are middle of the road in complexity and available functions. They offer the ability to turn the fan up, down or off but little more. Homeowner's manuals are very helpful and pictures speak louder than words. The biggest concern is keeping the filters and intake screen clean, similar tasks to cleaning dryer vent termination screens and HVAC filter maintenance.
Measurements of Air-Exchange and Ventilation Devices.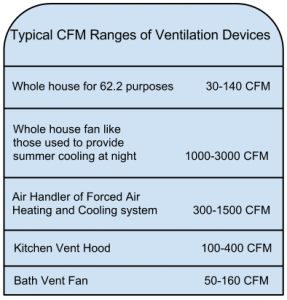 ACH Air Changes per Hour: Room's volume of air, replaced in one hour.
Ventilation is measured in:
CFM Cubic Feet per Minute
ASHRAE 62.2 can be broken down into three areas:
Amount of fresh, outdoor-air supplied for the entire home.
Amount of indoor-air exhausted from bathrooms and kitchen .
Requirements surrounding combustion appliances and garage.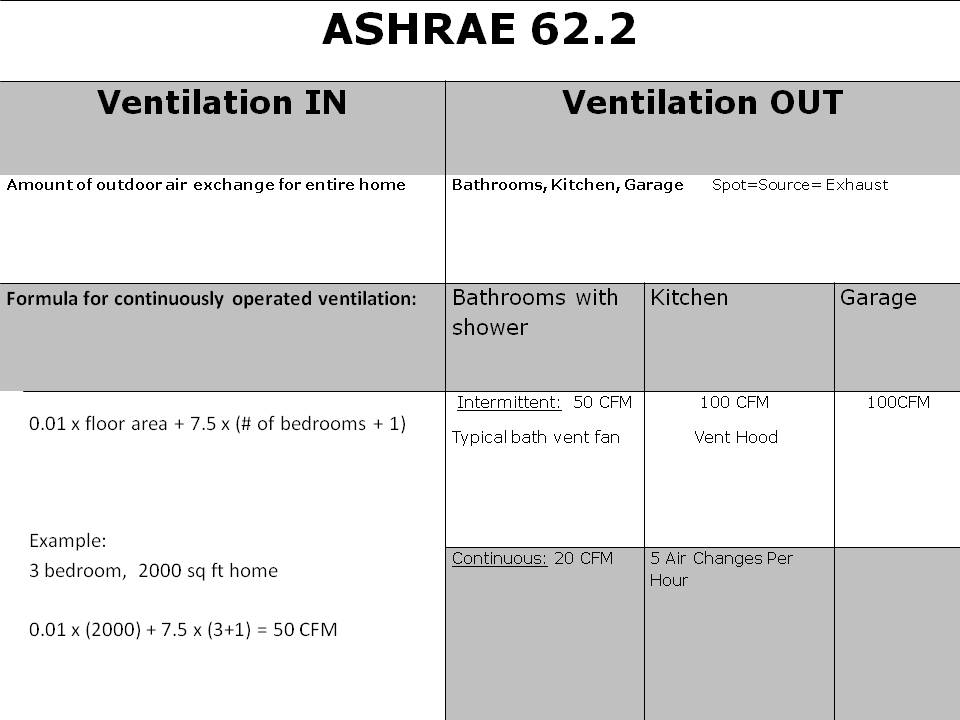 International codes require these ventilation rates as a minimum level of health and safety.
62.2 is flexible for ventilation system types. See outdoor-air ventilation for more on outdoor-air supply configurations. How systems are designed depend on the home's design, budget and desired amount of control.
For exhaust requirements, bathroooms and kitchens can skip dedicated exhaust fans if the room is supplied with outdoor-air at the continuous minimum rates. For existing homes, formulas and allowances account for the leakiness of older building envelopes and operable windows.
We favor using dedicated exhaust fans for bathrooms and especially for the kitchen cooktop. Kitchen vent hoods and bath vent fans offer the most control for those pollution sources.
Make-up air

Things get interesting as homes get tighter in regards to ventilation exhaust. An understanding of make-up air leads to a better understanding to the home as a system. Make-up air is when a separate duct and damper is used to supply outdoor-air in response to exhaust vented from the house. This prevents problems coming from depressurizing a home's building envelope.
Exhaust-only vents can end up supplying air in dangerous ways to the occupants:
Carbon Monoxide CO poisoning from backdrafting combustion appliances
CO from cars in attached garages
Radon from crawlspace or cracks in the floor slab
Humid air pulled through random cracks promoting mold growth in walls
Most codes are requiring make-up air for kitchen vent hoods over 400 CFM. Its possible that installing means of make-up air might be desireable for other things in an airtight home like bath vents and dryer vents.
ASHRAE 62.2 increases quality of indoor-air and building safety. International codes require this ventilation standard as a minimum. In direct relation to these issues, international codes also require blower door test minimums.
What is a Building Envelope?

The Blower Door Test.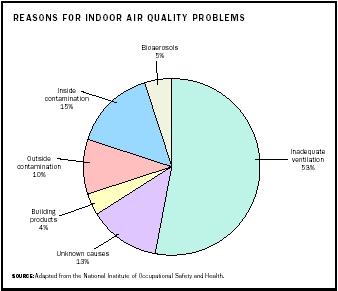 Reducing Indoor Air Pollution
Springtime Builders is a custom home builder serving the Asheville NC area.
Posted in
Indoor Air Quality